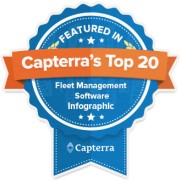 RASTRAC is pleased to announce that they have been included in one of Capterra's "Top 20 Most Popular" infographics in the category of fleet management solutions.
Austin, TX, November 11, 2014 (Newswire.com) - RASTRAC, a leader in GPS fleet tracking and remote asset management solutions for companies of all sizes, announces their inclusion in Capterra's Top Fleet Management Software Products. Capterra is a free service to help businesses find the right software, offering the most comprehensive list of business software solutions on the web so that anyone is guaranteed to find their best match. The list highlights fleet management companies measured by a combination of their total number of customers, users, and social media presence.
"We offer a solution where customers can purchase a standalone software system or access the RASTRAC Internet Server Application, thereby helping the customers to choose how they want to access their vehicles," says Jeff Manning, President, RASTRAC.
"We are thrilled to be included in Capterra's list for the 'Top Fleet Management Software Products.' Through our innovative and creative solutions for tracking a fleet or assets, RASTRAC has proven to be a leader in the GPS tracking industry."

Brian Dziuk, Marketing Coordinator
RASTRAC has been able to create innovative solutions for unique problems. One such solution is the Map Marker application, a plug-in that displays real-time map color changes that convey geographic information and can be shared to improve performance, cost, and safety. The Map Marker application color codes the entire coverage area map, for a clear understanding of the areas that have been serviced recently, such as by snow plows or street sweepers.
While many of RASTRAC's customers track vehicles, other clients track their employee's phone or tablet using the company's PocketRASTRAC application that enables users to track their iOS and Android devices.
For more information on RASTRAC, visit http://rastrac.com.
ABOUT RASTRAC:
RASTRAC (www.rastrac.com) is a leading GPS fleet tracking and remote asset management solution for companies of all sizes. Founded in 1993, RASTRAC has provided vehicle tracking solutions to companies all over the world to help them reduce their operating expenses. The GPS fleet tracking and remote asset management solutions offered can help reduce unnecessary costs on everything from excess fuel usage to costly vehicle breakdowns, and more. RASTRAC offers GPS tracking and fleet management solutions for mobile applications, as well as installed devices inside vehicles or assets.
Share: